Student Support Services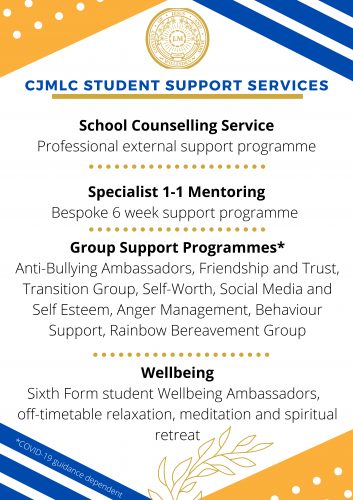 The Student Support Services department is an integral part of the support system available to students. The support offered by the team seeks to address and aid students in removing barriers to learning. The team delivers its provision through one to one mentoring and group support programmes and manages the counselling service in the school. The programmes aim to empower students by raising levels of self-esteem and self-awareness in order to prepare them for opportunities, responsibilities and experiences in both school and adult life.
Overview of the support offered to students:
One to One Mentoring:
Mentoring sessions are one hour weekly sessions for a minimum of six weeks, dependent on need. The aims of the sessions are to support and coach individual students with their holistic wellbeing in mind.
Support Group:
There are several support groups aimed at supporting students in removing their barriers to learning and aiding their development and wellbeing.
Transition Programme:
Our new year sevens can sometimes need a little extra support with adapting to a new school and system. The Transition Programme is tailored to guiding and equipping our young women with tools and strategies to make positive actions and decisions in and outside of school.
Behaviour Support Programme:
The school believes that our students have truly incredible potential and the Behaviour Support Group Programme aims to engage, motivate and empower young women to take positive actions in their lives and within our school and their local communities.
Anger Management Programme:
The Anger Management Programme allows students to recognise the root of their frustrations and provides a space to discuss and work through these issues. Strategies for improvement are developed, adopted and reviewed each session.
Social Media and Self-Esteem Programme:
Our Social Media Programme aims to explore and discuss the positive and negative impact of social media. We create personalised strategies to empower students to develop confidence, self-esteem and self-worth in their lives.
Positive Pathways Programme:
This helps young students counteract the possible anxiety caused by a new environment.
Friendship & Trust Programme:
This helps students identify and recognise the value and importance of positive friendships.
Self-Worth Programme:
This aims to develop and increase self-esteem.
Counselling:
One to One Counselling is offered by the Catholic Children's Society. Students meet their counsellors weekly. These trained psychotherapists provide the necessary and individualised support according to needs.