Welcome to House Cecilia
House values: Positivity Excellence Action
House motto: "Together in one voice"
House song: "I know who I am" Sinach
House Mascot: The Bee
Welcome to the house of positivity, excellence and action! 
House St Cecilia is a dream team of amazing tutors, awesome school staff and the students are kind, spirited and creative. 
Together we laugh, we learn, we grow and our unity is our strength.​
We always do our best and we love to get together to celebrate each other's success!
Our house colour is yellow. Our house mascot is the Bee because "we float like a butterfly and sting like a Bee!" and our house motto "Together in one voice" refers to Saint Cecilia, the patroness of musicians. 
Together we are a great team!
Ms Thuny


Head of House​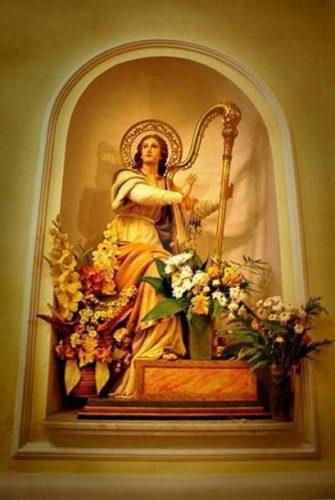 Saint Cecilia is the patroness of musicians.
The story of Saint Cecilia is one of courage, evangelization, and love of God in the midst of persecution and strife.
St. Cecilia is a symbol for the divine power of music.
St Cecilia Feast day:  November 22
St Cecilia's prayer
Precious St Cecilia,
Give us the grace and courage to live by the Gospel values.
Pray for us that we make music in our hearts to God.
May our love for Jesus manifest in our daily actions.
Amen.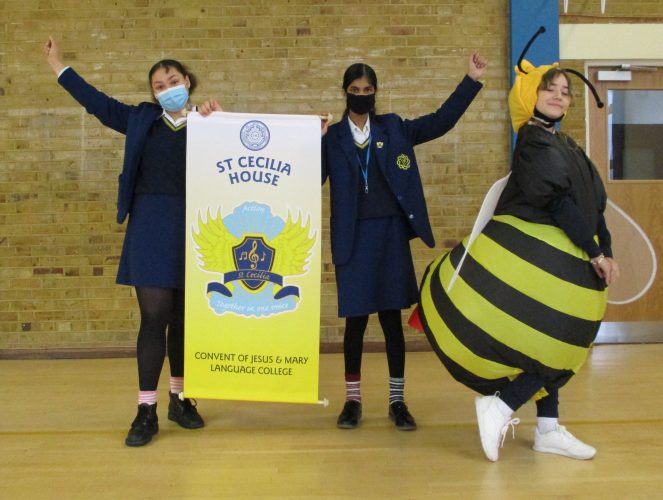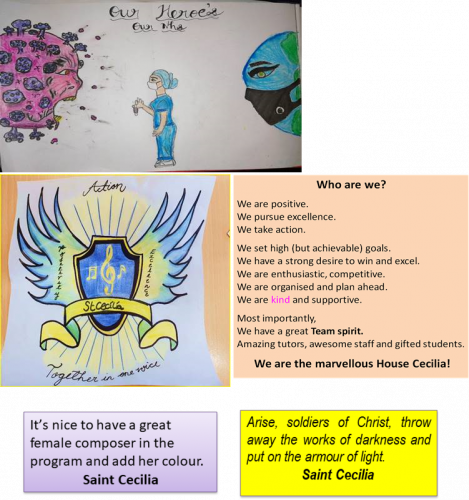 St Cecilia House achievements  
House Competitions
2018 – 2019 – 1st place – Christmas House Day.
2018 – 2019 – 1st place – Sport House Day.
2019 – 2020 – 1st place – Christmas House Day
(Yes we won it again!)
2019 – 2020 – 2nd place – Lockdown Memories.
2020 – 2021 – 2nd place – Christmas House Day.
We won 3 out of 6 house competitions and collected 47764 positive behaviour points!
We raised over £1500 for charity.
School Leadership
2019 – 2020 The school's Head Girl was offered a place to study Law at Cambridge University.
2019 – 2020 – School general election
Cecilia parliament cabinet was elected to lead the school.
2019 – 2021 – Special thanks to our School Prime Minister, Zainab Shahab 11C.
Your dedication is greatly appreciated.