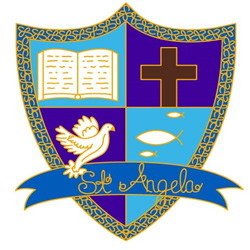 Welcome to St Angela House
Accept, Adapt, Achieve
'Let your light shine'

Our motto is 'Let your light shine'
The symbols on our house crest show our commitment to learning, peace, faith and making our dreams come true through perseverance.
Our values are to ACCEPT challenges, ADAPT to changes and ACHIEVE our goals.
Our house colour is Blue
Our mascot is a blue T-Rex!
St Angela key dates:
Born 21st March 1474 in Italy
Feast Day January 27th  (1540)
Became a Saint May 24th 1807
St Angela is the Patron Saint of
Those who are sick or disabled, those grieving the loss of parents and those seeking courage and determination
A member of St. Angela House is:
Ambitious – we set high expectations for ourselves
Resilient – when things don't go so well, we keep on going
Brave – we are open to challenges and not scared to make mistakes
Honest – we tell the truth, even when it might seem hard
Respectful – we recognise everyone's right to dignity
Supportive – we help each other through tough times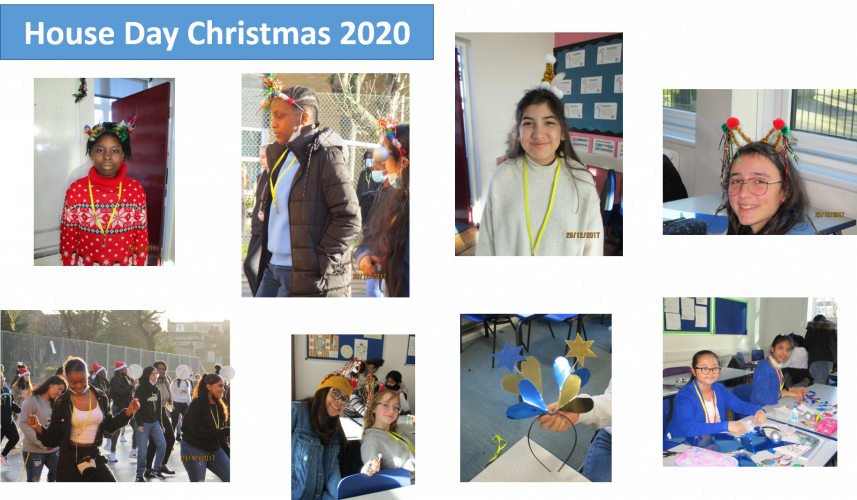 Meagan 10A
House Day is always something I enjoy. It gives us time to relax and is a good way to end the year. I enjoyed doing all the house activities but I especially like looking at the teacher's baby photos. I had fun trying to guess which teacher they are, however, some were more difficult to guess than others.
But I enjoyed it the most when we heard that our house won!
Sharai 9A
I enjoyed the year group dance because it was so much fun!
Lola 8A
I enjoyed looking at the teachers' baby photos because it was fun to try guess who was who and it was exciting when we got a answer right.
Shyna 11A
I loved everything but if I had to choose I my favourite part would be the teachers' baby pics because they shared their happy childhood moments with us which was quite good because this made us feel one and like a family i also liked the year group dance since it was fun and I enjoyed it a lot.
Ellie-Paige 9A
I enjoyed the dance it was fun and I enjoyed winning 🙂
Giovana 8A
It was really cool, we all had a lot of fun, and the coolest thing was seeing the pictures of the teachers when they were little.
Samuella 10A
Making the hairband was fun and seeing what the other classes had done with them as well.
Whitney 8A
I liked doing the teacher's baby quiz because it was interesting to see what the teachers looked like when they were a baby.
Tegan-Amiira  11A
I really enjoyed the liturgy as it was a reminder of all that had happened in 2020.
Stella 11A
I felt very glad that Miss Pearce chose to be different and made us make headbands, as if you someone in school on house day wearing a headband people would know you were in St Angela house. I also feel like our uniqueness is why we won house day. 🙂