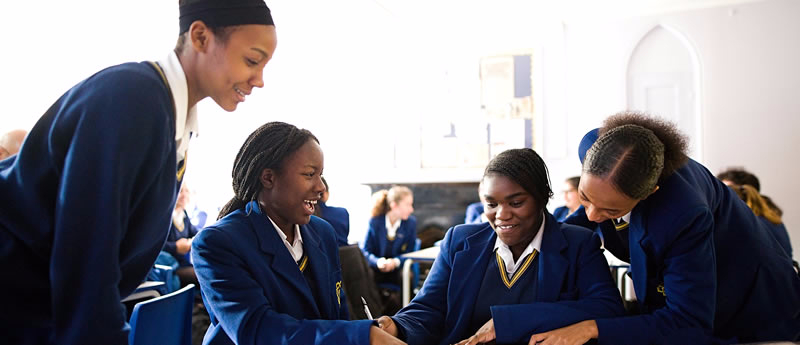 English Curriculum Map
Intent: 
The English curriculum aims to develop clear thinking and ensure that students are critical readers aware of crafting rather than just consumer readers.
Our curriculum aims to make Convent students independent, intelligent readers who recognise how texts are crafted to create impact and shape meaning. Our curriculum provides opportunities for students to shape logical, measured arguments and evaluations in order to ensure that they are university and leadership ready. Our curriculum facilitates progress as it is organised around developing a mastery of skills rather than exploration of themes and text content. We believe all students should access this curriculum hence we primarily have mixed ability cohorts for English lessons.
At the heart of our circular curriculum we have placed: word and language analysis, structure analysis, evaluation, genre, creative writing and functional writing. In year 7, 8 and the beginning of year 9, students study a range of non-fiction and canonical texts with a termly focus on a particular skill set. Over the course of each year, students repeat and refine their skill sets in order to produce coherent and convincing evaluations and writing supported by the exposure to increasingly challenging texts. Each year of key stage 3 begins with a form of functional writing in order to re-calibrate students into thinking about the importance of planning, choosing relevant information and writing clearly.
Students who have studied with us throughout key stage 3 sit their GCSE English Literature examination at the end of Year 10 because we feel by this point students can consolidate their knowledge of their texts and can practise their essay skills with the intensity needed for top levels. In Year 11 all students sit their English Language GCSE. This is a cornerstone GCSE required by universities and employers to prove competence in English.  At A-level Literature our chosen genres crime and tragedy build upon the skills, knowledge of genre and themes studied at key stage 3 and 4 so that students have a reference point and an embedded vocabulary that gives confidence for students to tackle the tasks and texts needed to succeed at A-level.
Implementation
1
2
3
4
5
6
7
Literary theme: family and relationships
Report writing

functional writing

 

This unit focuses on clear writing. It reminds students of the importance of the correct register, choosing and using relevant information and embedding the idea that students should plan their writing. Students are given a range of fiction and non- fiction sources in order to develop their reportage.

Students are encouraged to read a range of newspaper articles throughout this unit and share their findings with the class or small groups.

Parent and Child Poetry

language analysis

This unit encourages students to explore and develop their ideas by focusing on imagery and analogy. By building confidence in these areas we intend to encourage students to go beyond a comment on a quotation and move toward a developed response on the writer's choice of imagery and analogy.

Memories and Moments

structure analysis

This unit introduces students to how writers use structure to help shape meaning. Students look at a range of extracts including those from favourite Dahl stories to identify how writers use structure and move to beginning to comment on how structure helps to develop mood and characterisation. Students are encouraged to 'chunk' texts in order to notice sequences and shifts in the text.

In this unit student will also have the opportunity to apply the structure sequences they have identified to inspire their own creative writing on memories and moments from their own childhood.

Dahl Evaluation

evaluation

 

By this point in the year, we begin to synthesise the skills we have practised. The evaluation question is a crucial part of both English Language reading and English Literature all the way up to A-level and beyond.

Students consider open statements about a text and apply their literary judgement to defend their own ideas. The extracts are familiar Dahl texts so that students focus on the statement and the skills needed.

In this point of the curriculum students are introduced to the acronym DISCOS (Delivery-tone, voice, narrator, I-imagery, S-structure, C-characterisation, O-other devices, S-sentence structures or setting).

At this point we would expect students to be writing developed, extended responses to texts independently.

A Midsummer's Night Dream

genre

 

This is the point in the year when students are readying themselves for their end of year examination. This unit has two purposes: it revises the skills that the students have learnt over the year whilst also introducing students to the comic genre.

Genre is important to our KS4 Literature curriculum and central to our KS5 curriculum. Students are introduced to the comic Shakespearean tropes through the extract based study of this popular play.

 

Chinese Cinderella

creative writing

In this unit, students study Adeline Yen Mah's autobiography. The points of family tension are used to inspire diary entries and dramatization of different perspectives. The unit also encourages students to look at the importance of cultural context.

Literary theme: gothic
1
2
3
4
5
6
8
Opinion Pieces

functional writing

 

This unit is a scaffold to support students when writing longer opinion pieces (required for the GCSE English Language exam). In year 8 students are given articles to stimulate thought provide content for their extended writing (whereas in year 9 students will only have a statement to generate a line of argument).

Having explored different opinion pieces, students use the topic they have read about to develop their opinion and narrative voice whilst retaining an appropriate register. Building on the reportage skills of year 7, clarity, choice of content and detail are central to success in this unit.

 

1st World War poetry

structure analysis

 

Students study a range of 1st World War poems. They learn a little about the historical context and propaganda to help support their commentary and analysis on how the structure of poems and the shaping of the narrative voices create powerful meanings and effect.  The 'chunking' practice used in year 7 is used explicitly here again in the structure unit.

Dystopian Writing

creative writing

 

Year 8 is often a pivotal point between childhood and young adulthood. It is important that students have the opportunity to write creatively. This unit gives license to students to use their imagination whilst consciously experimenting with craft. Students explore the power of verbs, lexical fields and different sentence types with the intention of creating tension and dramatic atmospheres.

 

On My Own: short stories

evaluation

 

It is important at this point of their academic career for students to revise their evaluation skills. Looking at two short stories about taking control, students revise how to comment on language and how to evaluate statements.

The authors of the short stories Guy de Maupassant and Lessing are part of a modern yet classical canon.

Dickens' Victims and Villains

revision

Students are introduced to some of Dickens' most notorious characters. This unit explicitly revises the types of questions for the end of year exam that is based on Paper 1 of the English Language exam and it also begins to acclimatise students to the 19th century prose that they must be comfortable with for their English Language and English Literature GCSEs.

Through the texts, the students will be introduced to the context of England in the 19th century which will be important for their understanding of both the Dickens and Priestley texts at GCSE as well as their understanding of the Conan Doyle texts in year 9.

Romeo and Juliet

genre

 

Using their knowledge of comedy, students will come to see that tragedy is a counterpoint to comedy. Students will explore the shape of the tragedy and consider some of the dilemmas created by misfortune. The final outcome is for the students to create their own modern tragedy using the tragic arch and tropes that they have learned about.

1
2
3
4
5
6
9
Controversial speeches

functional writing

 

At this point in a student's academic journey, it is crucial that she can develop an extended opinion piece without a stimulus to guide or inform them. Students are given the opportunity to argue their points on controversial-though not sensitive points such as what place do birthday or fairy-tales have in our modern society. There is a focus on sequencing an argument and building craft into their writing to lend greater sophistication to their rhetoric.

The Adventure of the Speckled Band and A Scandal in Bohemia

genre and analysis

 

Students are introduced to the whodunit genre in this unit in order to develop a more holistic and sophisticated response which will later link with the A level crime unit if students choose to study A level Literature.

This will be the first time that students are introduced to the extract based question that is used for the Literature GCSE Paper 1.  For this type of question, students start with a deep analysis of a given extract and then explore how a theme or character is presented in the rest of the text. In preparation for the GCSE, the assessments for this unit will be closed book (i.e. students cannot have the texts in front of them) and will need to learn how to refer to evidence to support their ideas convincingly.

From this point on, all student assessments will be given a mark out of 30 and a grade 1-6 will be awarded for essays in the student books in line with the Literature mark scheme.

Letters and Speeches

comparative reading

 

In preparation for the comparison element of the poetry, students explore and compare different texts on the same topic. Students are encouraged to not just compare at a literary level but compare how the purpose or intent of the writer and the time it is received can create much more interesting points of comparison.

Start of Literature GCSE

Power and Conflict Poetry

Exposure, Bayonet Charge, Charge of the Light Brigade, Remains, Kamikaze, Poppies, War Photographer

Over the course of the GCSE students will have to study 15 poems from the Power and Conflict anthology. We organise the poems into clusters over the Literature course to support revision. The first cluster of poetry the students study focuses on power and conflict generated through war. Student learn about the context of the poems (Assessment Objective 3) to support understanding and, by the end of the unit, should be familiar with making and developing sound comparisons between two poems.

Students will be given a reminder of the Literature mark scheme in this unit.

An Inspector Calls

 

Students will read through the text after which they will explore it through a new theme and character each week: Home Sweet Home-context and Mr. Birling; Confidence and Conflict-the Inspector as a challenger and educator; Patriarchy and Princes- Gerald; Women in a Patriarchy-Shelia and Eva; Parents and Problems-Mrs. Birling; Duty and Downfall-exploring themes and planning. This unit draws from knowledge of the whodunit tropes of the first term and the importance of authorial intent.

Students are given a paper copy of the play. There will be no replacements provided. Students cannot take the play into the exam so they will need to be revising it from the point that they finish reading it.

Students will practise how to plan essays and substantiate their ideas with references to the text and keen awareness that the characters are constructs of Priestley's social and political message.

1
2
3
4
5
6
10
GCSE AQA
A Christmas Carol

 

Students start with the premise that the text is a protest against the Poor Law Amendment Act and learn what impact the Industrial Revolution had on the social landscape. The students follow how the themes of: Christmas; redemption and conversion; family and social responsibility are developed through the play as well as the central characters. Drawing from KS3 skills, there is a strong focus on how Dickens uses structure to enhance his message.

This question is extract based. We encourage students to apply a routine to this type of question: read the extract twice, chunk, annotate with DISCSOs, plan 3 paragraphs.

A Christmas Carol and Conflict Poetry: London, Ozymandias and My Last Duchess

 

Typically, during a school year, the key stage 4 mock examinations take place before Christmas. Rather than starting a new text, we take this opportunity to add more poems to our repertoire (clustered through the theme of power and hubris/pride) and revise how to compare poems. We ensure that students are confident in their knowledge of A Christmas Carol before they sit their mock exam on An Inspector Calls, A Christmas Carol and the Power and Conflict poetry studied to date.

Macbeth

 

Students must understand the tropes and conventions of a tragedy and the tragic hero from the outset. They consider how hubris feeds the tragic potential. Like the Dickens, students consider how themes of: good vs evil, guilt, ambition and natural order, power (over self and others) are developed through the play as well as how the central characters develop.

Using the skills developed from the Christmas Carol unit, students use the same approach to tackle the extract based question for Macbeth.  [I.e. read the extract twice, chunk, annotate with DISCOs and plan 3 paragraphs.] We start on language analysis paragraphs before building into extended essays in order to build up speed and confidence with the Shakespearean question.

Conflict Poetry: Tissue, The Emigrée Checking out my History and unseen poetry

Macbeth and Conflict Poetry: Storm on the Island, extract from Prelude and unseen

At this point in the course, students have studied the main texts and should be ready to control their own revision whilst they finish studying the remaining poems in class.

The unseen poetry is left to the end. By this point students have studied such a range of poetry and analysed extracts of prose using DISCOS that they have developed a strong voice to comment on the unseen poetry.

Literature GCSE examination

In class: spoken presentations

Once the Literature examination is over, traditionally year 10 would be facing the world of work experience. Upon their return students deliver an oral opinion piece to their peers either on a topic of their choice or inspired by their work experience. This oral presentation is given a pass, merit or distinction in line with the speaking and listening assessment.

1
2
3
4
5
6
10 Single English
Paper 1 English Language

Information retrieval and understanding fiction texts

 

Before students begin looking at GCSE questions, they are given a range of texts to increase their exposure to standard English and to encourage using sentences in their spoken English. Students are given opportunities to identify the 5 ws in a text (who what where when why).

Paper 1 English Language

Question 2

 

Students are introduced to explaining what words are important in a phrase and connotations of important words.

Paper 1 English Language

Question 3

 

Students look at the beginnings and ends of an extract and consider what impact these could have on a reader.

Paper 1 English Language

Question 4

 

Students will use the skills learnt for questions 2+3 to support evaluation. Students will learn to make 2 evaluative paragraphs to support their ideas.

Paper 1 English Language

Question 5

Students will create oral presentation to describe pictures using standard English. Students will also learn how to shape a three-part narrative to create a story shape.

11
GCSE AQA

English Language Paper 1: Q4+5

English Language Paper 1: Q 1-3

Students will be familiar with the shape of this paper from their end of year assessment in years 7+8. The skills studied at key stage 3 feed directly into analysis of language and structure required for GCSE. Similarly, the analysis paragraph for the extract based question developed for the Literature examination support the levels of analysis needed for the unseen language paper. Question 4 is an evaluation question and worth 25% of paper 1 hence it is apportioned a healthy timeframe to practise and improve responses to the question. Question 5 is an extended descriptive or narrative piece of writing and students explore different approaches to planning and are given timed conditions for both planning and extended writing to build up speed in exam conditions.

English Language Paper 2: Q1-4

After the Christmas mock examination, students will be in a strong position to understand how they perform with these short analytical language questions in timed conditions. Paper 2 is a development on the skills tackled in paper 1 but this time the paper introduces an element of comparison which students will practise. For question 5, students will be encouraged to develop a strong voice to develop their views on topical issues and draw from their academic journey of planning and clear expression.

exam season

11

Single English

 
Paper 2 English Language

Q1-4

 

Student will begin the year learning terms used for comparision. Students are now expected to have built some confidence in English and the pace will be a little faster than the previous year.

Paper 2 English Language Q5

Students will focus on reading a wide range of topical opinion pieces to help build ideas, vocabulary and an appropriate register for the non fiction extended writing question.

Revision

 

 

A Level English Literature AQA
For the Literature A level the approach is genre based. Students develop a stronger understanding of crime and tragic genres and explore how the exam texts operate within their genre and through time. 20% of the exam is NEA (non-exam assessed work traditionally called coursework). Students must choose, research their own texts and line of investigation adhering to the spirit of the NEA framework and in preparation for university research.
1
2
3
4
5
6
12
Crime: Poetry-Crabbe and Browning

Tragedy: Othello language analysis

Crime: Poetry-Wilde

Tragedy: Othello tragic elements

Crime: Christie's the Murder of Rodger Ackroyd

 

 

Tragedy: Miller

Crime: Atkinson's When Will there be Good News?

 

 

Tragedy: Hardy

Crime: comparison of prose

Tragedy: Hardy

Crime: preparation for prose coursework

Tragedy: comparison of Miller and Hardy

13
Crime: prose coursework

Tragedy: preparation for poetry coursework

Crime: unseen

Tragedy: poetry coursework

revision and wider critical reading

exam season

GCSE retake
Any student who achieved a grade 3 or below for her English language GCSE in the summer series will be entered for the November exam. The teacher will prioritise practising question 4s of paper 1 and 2 (which command the highest number of points for the reading section). There will also be a revision of the writing sections for paper 1 and 2.

Using AQA's diagnostic tool students will be able to see how well they performed in all 10 questions (there are 5 questions for each paper) Students are expected to do significant independent study in preparation for the exam using their knowledge of which questions they must focus on according to the performance diagnostic.

Between the exam and the results in January, students are not expected to attend lessons, so that they can focus on their other courses.

Once the results are returned to students in January for the external November English Language GCSE examinations, again teachers and students will be able to use the AQA diagnostic tool to understand individual performance in exam conditions.

As all work is revision, students' strengths and weaknesses direct how class time is used. The students work primarily on computers during these lessons so that there is quicker turn around on feedback and more opportunities for students to practise skills at their own pace rather than be slowed down by class discussions.

Any student who has not achieved at least a grade 3 for her English Language GCSE November series will be entered for the June exam series.
Impact
The school has two assessments weeks during the academic year: at the midpoint and at the end of the academic year. These grades are approximated to GCSE levels 9-1 based on the previous year's percentage thresholds and officially reported to parents. However, we would urge parents to engage with the work their daughter is producing in class and at home throughout the year. End of year assessments in key stage 3 are shaped around the Paper 1 GCSE English language paper with the same time allocated and the same questions. However, the unseen texts are age appropriate.
Prior to the GCSE in term two of year 9, students follow a unit whereby the first piece of extended work is given a star mark out of four. This star mark indicates effort and allows a student to see if they are understanding the ideas and achieving the standards expected. The second piece of extended work in a unit is box marked. This means that, in addition to a GCSE mark, a teacher will give feedback on the work and provide a task that allows the student to improve or correct an element of their work. The final extended piece (a checkpoint) is completed during a silent lesson and it given a mark according to the GCSE mark scheme allowing a student to see if they have improved. Teachers will also give a feedback lesson identifying common errors after a checkpoint or assessment.
A similar sequence is used for key stage 4 but with more opportunities to practise exam style questions that are given a mark. A healthy attitude to ensure progress in English is to embrace the feedback boxes: students who change their approach or understanding of a question following the feedback box are more likely to make progress.